For our first event after the summer break we visited ÖGUSSA: Österreichische Gold- und Silber-Scheideanstalt (the Austrian Gold and Silver Refinery) on 3 October 2019. Ögussa is an internationally active precious metals enterprise with comprehensive expertise in chemistry, metallurgy and other materials technology.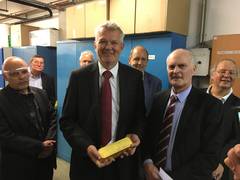 We were welcomed by Mr. Mag. Marcus Fasching, General Manager of ÖGUSSA, who gave us an extensive presentation. Furthermore we had the great pleasure of being guided by him through the different departments of the company, such as the foundry and the production departments for precious metals, semi-finished products and finished products. Finished products include gold and silver wires (e.g. for violin strings), gold jewelry, platinum elements for catalytic converters, the electroplating of brass musical instruments etc.
The production is based on the recycling of precious metals. Companies and individuals may sell their precious metals such as gold, silver, platinum (sometimes in the form of jewelry) and others, including end-of-use and post-consumer material, to ÖGUSSA. Using this strategy there is generally no need to use and import raw materials. Devising customer specific solutions and offering applied technical services complete the range of activities of ÖGUSSA.
Precious metals that have been recycled in a resource-friendly way at the site in Vienna are by far superior to any kind of mined material, meet high ethical standards, and minimize the impact on the environment. Therefore ÖGUSSA only accepts mined material by exception if it originates from Fairtrade or Fairmined sources.
During the tour all 18 participants of the visit were offered the brief opportunity to hold a gold bar of around 12 kilogrammes in weight, if they wished to do so: 99,9% degrees of purity, worth about 500.000 Euros.  The accompanying picture shows Mag. Marcus Fasching, General Manager of Ögussa (centre), and Ron Willis, President of the CdH (right of centre), and some others of the CdH delegation.
Ögussa, Österreichische Gold- und Silber-Scheideanstalt
Liesinger-Flur-Gasse 4, 1230 Vienna (23rd District, Liesing)
Thursday, 03 October 2019, 13:45 hrs

Website: https://www.oegussa.at/en/oegussa-the-world-of-precious-metals/