An Austrian start up that became a market leader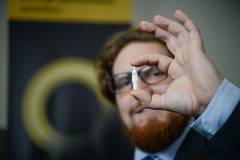 Our third CdH event in 2016 was the visit to the world market leader of Additive Manufacturing Systems for high-performance ceramics, Lithoz in Vienna.
At the beginning of the event Dr. Johannes Homa, CEO and Co-Funder of Lithoz, gave the trade delegates a warm welcome and an overview about the company. The start up Lithoz was founded as a spin-off company of the Vienna University of Technology. Since then Lithoz employs more than 25 people with a growing tendency. The company is active in many research projects and is already honoured with numerous awards.
Lithoz is a System provider for so called Additive Manufacturing (AMT) of high-performance ceramics. The enterprise developed a patented LCM-Technology for the production of prototyps, small batches and complex parts out of high-performance ceramics. The advantages of these materials are high temperature and corrosive environment resistance, good isolation properties, high stiffness and hardness as well as biocompatibility. In the words of Dr. Homer: "High-performance ceramics are used, where other materials fail!".
The application frame for high-performance ceramics is enormous. Thus, for example, Ceramic Casting Cores for jet engines and industrial gas turbines can be manufactured. Moreover the production of medical components such as bone replacement materials and heartpumps is possible. The AMT can also be used for chemical engineering applications, for example static mixers or microreacture structures.
Lithoz takes a pioneering role as it supplies customers all over the world with the only commercially available AMT for dense and precise ceramic parts. The corporation provides customers with machines and materials as well as an outstanding development competency for the whole process chain.
Moreover, Dr. Homa gave us a short overview about the building the entity is situated in. The Gewerbehof Mollardgasse was named after the house of the Counts of Mollard and was dedicated tothe "Kaiser Franz Josef I Jubiläumsfonds für Werkstättengebäude und Volkswohnungen" in 1908. The building creates a symbiosis between work and life balance as commercial and industry construction as well as so-called "Volkswohnungen" are domiciled.
As a highlight of the event the trade delegates were offered the unique opportunity to visit the 3D printing process. First a 3-D CAD virtual model of the part is created and is virtually divided into individual layers afterwards. The part is then composed layer by layer by the machine. The whole production process saves resources and reduces material costs considerably as only the exact amount of material that the part requires is used. In addition some special forms, wich can not be manufactured by traditional methods, are achievable.
At the end the participants had the opportunity for discussion with Mr. Dr Homa and networking with other trade delegates with light refreshments.